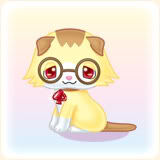 Alex is a boy Scottish Fold Cat. He is the 31st character in the franchise.
Alex's fur is light yellow with a brown stripe on his head and back. His tail and ears are colored in brown. His eyes resemble of a Alexandrite. He wears a dark brown collar with a red spade suit along with a pair of eyeglasses.
Alex's charm resembles of the color of his fur. It's round and its oval shaped. In the center, it is a red thing that resembles Alex's signature spade collar. In the top there is a bookcase, and in the front it has a white book. Down there are orange things that resemble Alex's signature pair of glasses. It has 2 round alexandrite crystals surrounding it. It also has white swirls on his Jewel Charm.
Community content is available under
CC-BY-SA
unless otherwise noted.