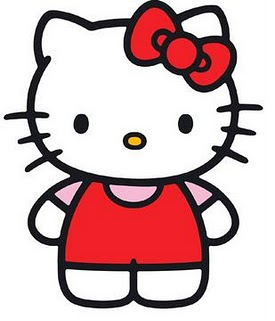 is a popular cartoon character created in 1974 by the Sanrio Company of Japan and she is also the mascot of Sanrio. she was first designed by Yuko Shimizu. She is portrayed as a female white Japanese bobtail cat with a red bow. The character's first appearance on an item, a vinyl coin purse, was introduced in Japan in 1974 and brought to the United States in 1976. The character is a staple of the kawaii segment of Japanese popular culture.
The Hello Kitty trademark has spread globally; Sanrio earned over $1 billion annually in sales outside of Japan, as of 2003. Although mainly aimed at the pre-adolescent female market, the Hello Kitty product range goes all the way from purses, stickers and pen sets to toasters, televisions, clothing, massagers, and computer equipment. It has a cult-like following among adults as well, especially in Asia, where Hello Kitty adorns cars, purses, jewelry and many other high-end consumer products. Several Hello Kitty TV series, targeted towards young children, has also been produced. Examples of products depicting the character include dolls, stickers, greeting cards, clothes, accessories, school supplies, dishes and home appliances. Her fame as a recurring Sanrio character has led to the creation of two officially licensed Hello Kitty theme parks, Harmonyland and the indoor Sanrio Puroland.
Character
Edit
Hello Kitty was born on November 1st and she lives in London, Engand with her family her twin sister Mimmy, Mama and Papa. she has lots of friends at school. Hello kitty loves making new friends. one of Hello Kitty's Famous things to say is "You can never have too many friends!".
The Anime
Edit
Hello Kitty had her own 1986 animé TV show. She was voiced by a young Tara Strong.
Community content is available under
CC-BY-SA
unless otherwise noted.